I decided to start a blog earlier this year. I was out of work at the time and I knew there were people earning a full-time income from Blogging. My thought was that enjoy writing so why not take my hobby and turn it into a way to earn extra money and hopefully turn it into a way to replace a 9-5 income.
When I made the decision to start a blog I really overthink the room in the beginning. I wanted to have the perfect blog. I bought 4 different domains and then never did anything with them. Yep, flushed money right down the proverbial drain. I was so swamped with all the ways to create a blog that I literally was suffering from paralysis by analysis.
I finally decided that my blog didn't have to be perfect and it could grow with me as I grew. So I created Dad Makes Dough as a little play on words that would help me share ideas on how to work from home, and share some of my recipes from the kitchen since I love to cook. I may also add a section on everyday parenting hacks, but that's the beauty of it. I realized my blog could evolve and grow as I grow as a blogger.
Today I will lay out a plan that hopefully helps you from falling into the same trap I was in when I first started this blog. I'll give you a simple guideline how to create your blog from scratch to a fully functioning blog.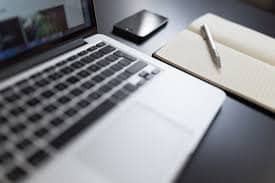 Easy Guidelines for starting a blog as a beginner
These steps are simple and a brief guideline to help you beat the paralysis by analysis stage of starting a blog.
Decide Your Niche
The very first thing you need to do is decide what you want your blog to be about. You want to be able to monetize your blog, but you also want to have a passion about your blog. Find a topic that you love to talk about or would love to write about.
There are literally millions of niches out there. Some of the top niches that are proven winners are; Fitness, Making Money, Travel, Beauty Tips, Parenting, Relationships, and DIY just to name a few.
I know what you are thinking, there are already tons of these out there. You are absolutely correct, but within each of these there are sub categories that you may be already or you would like to become an expert on.
It's important to find your niche and become an expert on it. I will put up another blog-post soon about finding your niche.
Choose And Register Your Blog Name (Domain)
Once you have decided on your niche, you need to figure out what you want to call your blog. This can be tricky as you want it to capture what your blog is about, but you also want it to be able to be seen in a search. You also don't want the name too long. Target somewhere between 6-14 characters keeping in mind the shorter the better.
There are several sites out there that can help you determine a name for your blog. Do a quick Google search on domain name generator and you will find several links. Most will let you know if it's a good name for SEO and if the domain name is available as well.
Once you have decided on a name you will then need to register your name. Several hosting site will register your name for free if you sign up for hosting through them.
Decide On A Hosting Company
There are several out there and you will have many to choose from. You will find many people pushing hosting companies and giving you a link that you can use to get a discount on and they will make a commission if you do. I haven't monetized my blog yet so I am not doing that. However, I am sure I will find a good hosting company to partner up with in the future and recommend them to anyone that is interested.
For the time being do another Google search and see what host will be best for you. I highly recommend looking at several and seeing which one fits your budget but make sure their customer service is good. Some will even give you a 30 day money back guarantee.
Install WordPress
Once you have purchased your site install WorPress to build your site. There are several site builders out there but WordPress is the most common and pretty simple to use. It comes with pre-loaded themes, but you can also add themes. A quick YouTube search will get you hundreds of results on WordPress tutorials that will teach out about themes and plugins.
I would highly recommend a simple theme. You can create more advanced sites later, but for your first one I say use the KISS method. Keep It Simple Stupid. You'll want your blog to load fast and the more pictures and graphics you have the slower it will load. As you monetize your blog you will put adds and banners on your pages which will slow them down as well.
Create Content
Now that you have WordPress installed and have set up any themes and plugins it's time to do what you built this blog for…WRITE!
Start filling your blog with content. Decide what you want to write and try to get 2-3 blog post a week. You will want to get at least 15 post ob your site before you start trying to drive traffic and monetize the site.
Research how to write a good post. Ideally you want them to be at least 1500 words and have strong content on the subject.
Not only do you want the content good, but you need to keep in mind the appearance of the bog. Many people will be reading your blog on phones and tablets. Break up your post into small paragraphs and stay away from long ones.
You'll also want to title sections to make it easier for the readers to follow. Read others people's blogs to get ideas of how you want to present your content, then make it your own.Add illustrations, photos and videos
Add Pictures To Your Content
You want to spice up your blog a little. If you have your own pictures that's great. However, if you don't, then not a problem. There are millions of stock photos out there that you can get.
There are site that you can pay and get what you like, and there are sites that are free or offer a free trail.
When you add photos to you blog you elevate it. People are drawn to pictures, so they may remember your blog by a picture you had on it.
You just have to be careful to Post royalty Free Photos so somebody doesn't come back to you saying you owe them money for using their photos without permission.
Finding Your Audience and Drive Traffic
As you do research there are tons of ways to drive traffic to you blog. Many of those ways cost money to run adds.
However, Pinterest is free and you can build your following up driving people to your blog quickly if you work at if for about 10 minutes daily.
Go on there and create eye-catching pins that will draw pinners to your blog. I use Canva to create pins, which is free and easy to use.
Monetize Your Blog
Your blog is now up and running. You have content (at least 15 blogs), you have pictures, and you have started driving traffic. That's great, now MAKE SOME MONEY!
Once you have done all this the three main ways to make money is;
Add affiliate links in your post that recommends a product or service. Ideally it's great if you use the product and you like it a lot so you can give first hand reviews of it.
Find advertisers to sign up with and place adds and banners on your site.
If you have your own product then you can sell it on your blog.
Conclusion
So there you have it. A quick and basic guide to setting up your first blog. This is pretty basic and I will break this down and go into more details over time.
As always, I hope you enjoyed the read and will come back for more. Thank you for your time and have a great day.